Postal and office addresses are different
Postal items are delivered to a mailbox in Ookayama Campus of Tokyo Institute of Technology. Because each mailbox has a unique identifier that is not inspired by an office/room number, postal and office addresses are different. Please check the office address when visiting our laboratory (visiting our laboratory only with the postal address is nearly impossible).
Postal address
It is unnecessary to specify the building name and room number because "W8-77" uniquely locates the mailbox of our laboratory in the university.
Office address
Room 604 (students and staffs) and 603 (professor and secretary)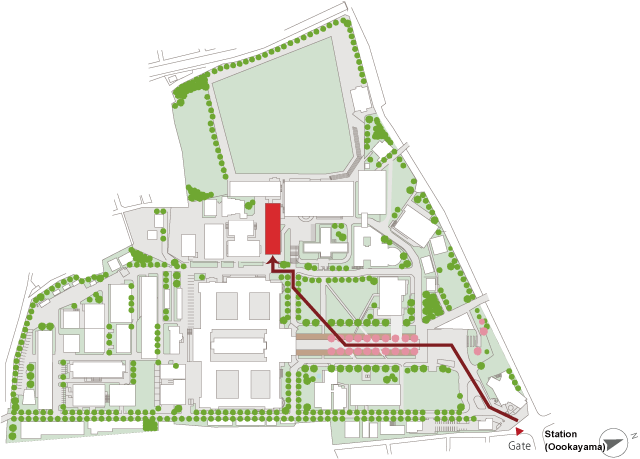 West Bldg. 8E is building #19 in the Ookayama Campus Map. After passing through the central gate of Ookayama station on Tokyu Ooimachi Line or Tokyu Meguro Line, walk diagonally forward left toward the main gate of the university. Then proceed diagonally forward right from the main gate and turn left to the road on the wood deck (marked by pink points in the map). Walk down the slope to the right just in front of the main building to reach the entrance of the West Bldg. 8E. It takes about three minutes from Ookayama station to the entrance.
Entering the building in this way, one enters the third floor (not the first floor) of the building. Walk a little from the entrance of the building, and one can see two elevators and a staircase on the left (it may be difficult to notice the existence of the elevator behind the big column of the building). When visiting our laboratory, do not keep walking from the entrance till the end as one may enter another building (West Bldg. 8W); there is no corridor on the sixth floor that connects West Bldgs. 8E and 8W.
Move up to the sixth floor. Please call us on the extension line equipped next to the security door on the floor. The extension line numbers are shown in front of the door.
Extension line numbers (also shown next to the security door):
Students' room (604): 3200
Professor's room (603): 2186
Phone and FAX
The last four digits represent the numbers of extension lines.